About Gonzo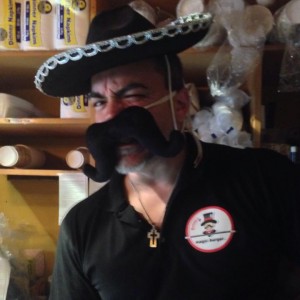 When you go into Gonzo's, you will see photos of the owner, Joseph Gonzalez posing with such super celebrities as Whoopi Goldberg and Robin Williams, but, when you get to the one of him and Albert Einstein, it occurs to you that there is something chronologically wrong. Then you realize that the celebrities are made of wax and that Joe must have gone to a lot of trouble to find all these wax figures to pose with. If you know Joe, you would realize that this is just one manifestation of his quirkiness. So, in addition to the great food, which is wholesome, fresh, and delicious, Gonzo's customers also enjoy the jovial atmosphere that is a result of Joe's outgoing personality.
Joe's entrepreneurial spirit became evident at the age of eight when he bought a dirt bike for $20.00, spruced it up and sold it for much more. "I guess, I get it from my father, who owned a magic shop called Tricky Business in Franklin Square," he said. He admits, he also inherited his demonstrative personality from his father, who was a magician and entertainer.
Like most young people, Joe could not decide what he wanted to do. He has the talents to be an artist, a comedian, an actor - he even starred in a small independent film. But, as fate most often than not determines what we end up doing, he found himself the owner of a restaurant/pub, which he sold after 6 years. Soon after that, while in the throes of deciding what to do next, he visited a well,known Mexican grill, whose fare was pre,prepared in bulk. He was inspired - as he always is by his instincts - to open a Mexican grill that would serve fresh, healthy, and delicious food.
Again, using all his skills, he did most of the work himself including the design, construction, and menu,planning. The result is a warm, welcoming restaurant that is popular throughout Long Island. Joe has just opened his second Gonzo's in Bellmore. Could this be the start of a chain?
Joe's story has so many lessons like finding a career that fits your skills and personality, letting your instincts be your guide, and a small business can successfully compete with a big "chain." And, a sense of humor can't hurt.